Who We Are
Sunday Monday is a textile brand created by partners Nisha Mirani and Brendan Kramer in 2017. They work directly with weavers and block printers in India to create bandanas, scarves, and home textiles that celebrate Indian craft traditions, color, and nature, with minimal harm to the environment.
Their work is informed by the manual processes used to create their textiles as well as the rich design histories of their respective Indian and Japanese heritages.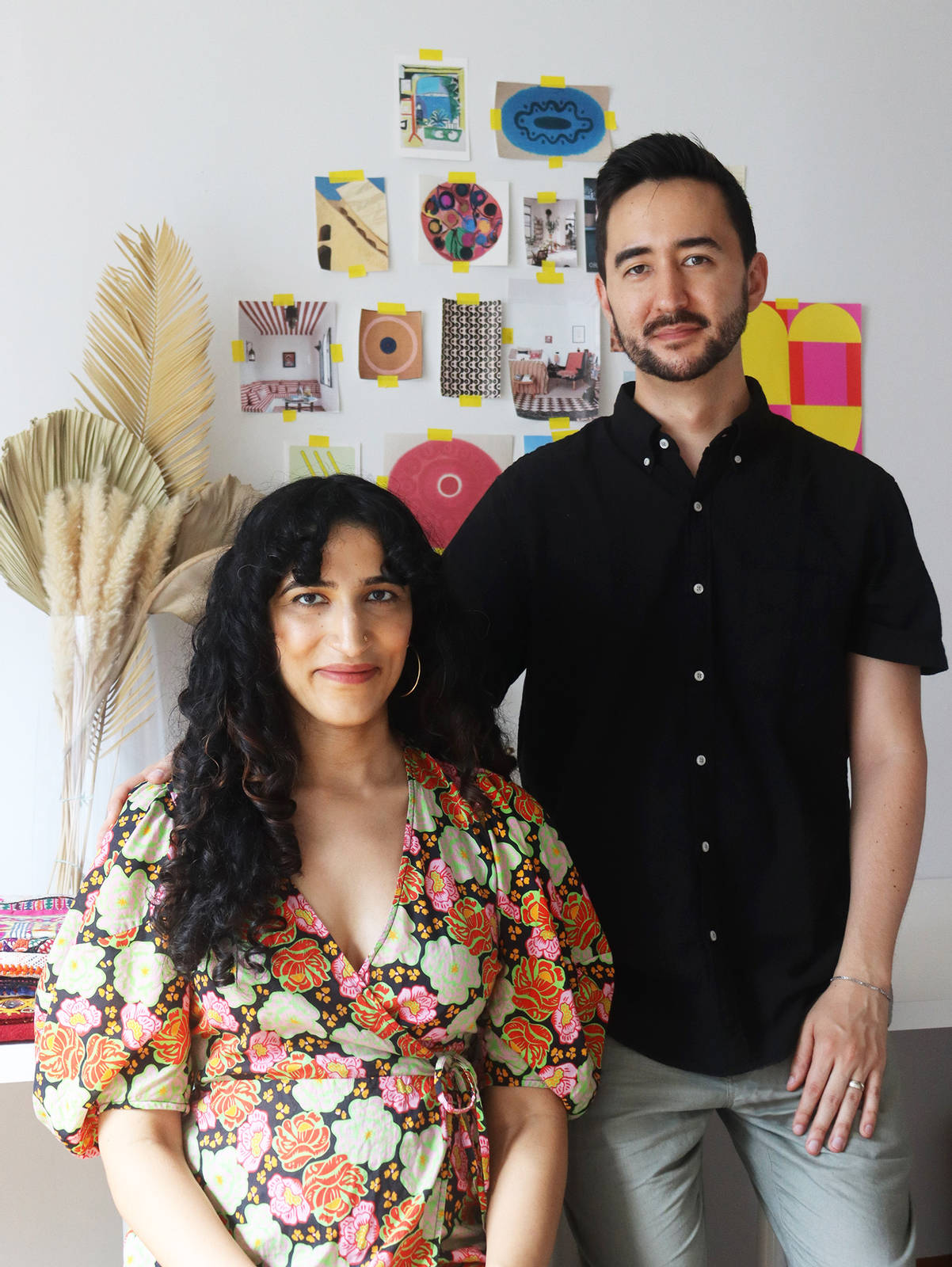 How We Got Started
Growing up, Nisha regularly visited family in Ahmedabad, Gujarat, where she was exposed to the region's vast textile heritage. As a second generation business owner and the daughter of Gujarati immigrants, she dreamed of creating a business rooted in community and craft. When Nisha met Brendan at Brown University, they bonded over their mutual love of art and design, and have been together ever since.
In 2016, Nisha visited and chatted with local weavers in the Kutch region of Gujarat, India. After hearing Nisha admire their craftsmanship, the weavers voiced their concern about the future of their livelihoods. Over hot cups of chai, this evolved into a larger discussion about a mutual interest in bringing local handwoven textiles to a wider market. Over time, we collaborated more on designs. You can learn more about the artists we partner with here.
Our Partners
We partner directly with weaving families in Gujarat and a block printing community in Rajasthan to make our textiles. We do not work with any factories or middlemen. Our textiles are designed in New York by Nisha and Brendan and are informed by traditional Indian and Japanese motifs. As a second generation Indian immigrant, it is very important to Nisha to honor and credit the textile traditions established by local communities.
We visit India once a year to visit family as well as to collaborate and prototype with our partner textile artists, and to check in on working conditions and needs. Otherwise, we keep in touch long distance using Whatsapp for phone calls, photos, and feedback. Our textile partners are made up of families and communities who have all have learned their crafts through knowledge passed down in their families and they are masters of their craft. They provide invaluable input on our designs and we are committed to our partnership and their well-being. Our partners set their own wages and working hours. You can learn more about them here.
Our textile production process is mindful of the resources we take from the environment and centers working with nature, rather than against. Our block printed textiles are hung to dry on long lines under the hot Rajasthani sun and the water runoff from our production is used to irrigate the family farm where our partner's open-air block printing studio is based. This also means that our production comes to a stop during the monsoon season, when it becomes too humid and wet to hand block print and dry textiles.
We invest in high quality materials to ensure a long lifetime for our textiles and to minimize environmental harm. We avoid synthetic fabrics and use either natural dyes made with local ingredients or AZO-free nontoxic dyes. We don't adhere to the traditional fashion and design calendars. Instead, our textiles are produced in small batches and we release capsule collections throughout the year. Our textiles are intended to be timeless and we hope you enjoy them for years to come.
Our Name
Sunday Monday comes from a phrase used in India to indicate the duality of textiles. Oftentimes, an Indian textile is reversible, with a different pattern or color scheme on the other side. In general, textiles are versatile and may serve different purposes during their life cycle. Our name is also a nod to the culture of resourcefulness we inherited and aim to uphold through our work.